After the cash for questions and the expenses scandals, trust in politicians and democracy has never been so low. Rather than clean up their act, some prospective MPs are secretly receiving help from the hunting lobby during the general election.
Ben Bradley's (the Conservative Party candidate for Mansfield) campaign is being supported by members of a hunt recently convicted of a criminal act.
In March of this year, three members of the Grove and Rufford Hunt were found guilty of illegal fox hunting after a three day trial. Huntsman Paul Larby was fined £800, Peter White was fined £550 and whipper-in Jane Wright was fined £180. All three were ordered to pay costs and a victim surcharge, at Mansfield Magistrates Court. In his summing up, District Judge Spruce said the three defendants had failed to cooperate with the police, giving no comment interviews when they were interviewed.
On Saturday, 3rd June 2017, 27 year old Ben Bradley was seen handing out packs of campaign leaflets to Paul Larby, Peter White and five or six other members of the Grove & Rufford Hunt outside Tesco's in Mansfield. A lady who was shopping at Tesco spotted Bradley and took a couple of photos. When she posted them on Facebook one of her friends recognised Larby from the press coverage of the trial and contacted us.
It's likely that the Grove & Rufford Hunt are acting on behalf of the pro-hunting Vote-OK group run by Otis Ferry, son of Roxy Music frontman Bryan Ferry. Otis Ferry's own criminal record includes drink driving, failing to provide a breath sample after he was arrested on suspicion of drink-driving and the cowardly assault on two women.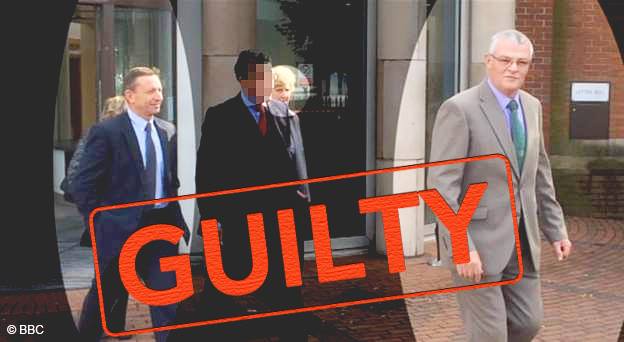 Knowing how unpopular hunting is with the public, Vote-OK volunteers are not to mention hunting when campaigning for candidates. It is also worth noting that Vote-OK don't seem to be coordinating the "legions" of activists as claimed in the Telegraph and by pro-hunt MPs. The Grove and Rufford Hunt could only muster about half a dozen people for campaigning on a sunny Saturday afternoon!
Although Mr Bradley is very active on social media, he's been rather reluctant to share photos of himself with his bloodsport friends.
If elected, Ben Bradley won't listen to the constituents he is meant to represent when it comes to any vote on the repeal of the Hunting Act. Instead he will reward the criminal minority.