A mute hound, like a person dumb, never can be cured.

Observation on Fox-Hunting by Colonel Cook
A Dog Is For Life, Not Just For Christmas – Unless It's a Hound
In evidence to the Burn's Inquiry, the Countryside Alliance admitted 3,000 hounds are killed each year, the true figure is considerably higher. Detailed research by Protect Our Wild Animals states "that the numbers of hounds deliberately and unnecessarily killed by their own Hunts per annum in the UK is probably somewhere between 4,942 and 7,302."
Hounds are simply an accessory to hunters and are shot or clubbed to death without a moments thought when the hunt no longer has a use for them. A hound can live to be fourteen quite easily, few hounds belonging to hunts live much beyond five or six years of age. Hounds as young as one are killed by hunts for not showing enough hunting instinct, bloodlust or just not being aesthetic.
The chart below shows data from three typical foxhunts.
Given that all these hunts claim to be "trail hunting", it does raise the question why their foxhounds are being killed so young; a typical hound at a drag hunt will live much longer.
Nevertheless the pretence that hunts love their hounds goes on. "Anyone who wants to … see our lovely hounds will be most welcome" stated J Sellers of the Cheshire Hunt. The photo below captures the last seconds of one of Cheshire Hunt's 'lovely' hounds as it is callously shot in the head, a fate that awaits all their hounds.
The below photo is of a shot foxhound that has simply been dumped in a hunt bin. Some shot hounds are even fed to the remaining hounds to 'give the hound one last run in the stomach of his chums.'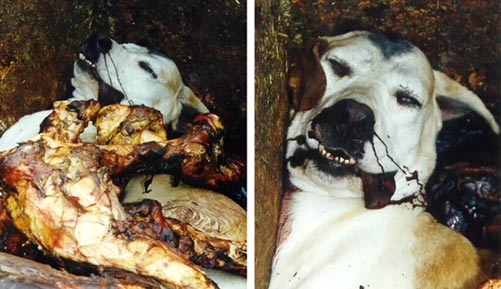 Patching up hounds on the cheap
In December 2005, kennel huntsman Philip Simmonds was found guilty of animal cruelty. During his trial the court heard Simmons stitched a six inch gaping wound on a beagle's leg without giving the dog a local anaesthetic — an operation that should only be performed by a vet in an emergency.
The court also heard that he caused another beagle unnecessary suffering by delaying having it put down when it was terminally ill with kidney failure and heart problems. Simmonds was also found guilty of causing suffering to a mink hound by failing to have it treated for chronic ear problems.
The hounds are not the only dogs to suffer as a result of hunting. Terriers, which are used to locate and fight foxes underground, can sustain horrendous injuries, but rarely will they will be treated by a vet. Once a terrier becomes surplus to requirements their fate is the same as hound. For example, one terrierman, writing on a hunting forum, states, "Had a fell terrier, was a nutter… i took a walk to the woods. only i returned… the only way i could resolve the issue."
The End – Of Another Foxhound
And they call this 'sport'…