Two otters have been found dead in illegal fishing nets on the Norfolk Broads.
The police and Environment Agency (EA) are investigating the wildlife crime after 11 nets were seized during a routine patrol on Tuesday morning.
The five pairs of fyke nets and one single, which contained around 400 live crayfish and the two drowned otters, normally lie on the riverbed and are used for catching eels.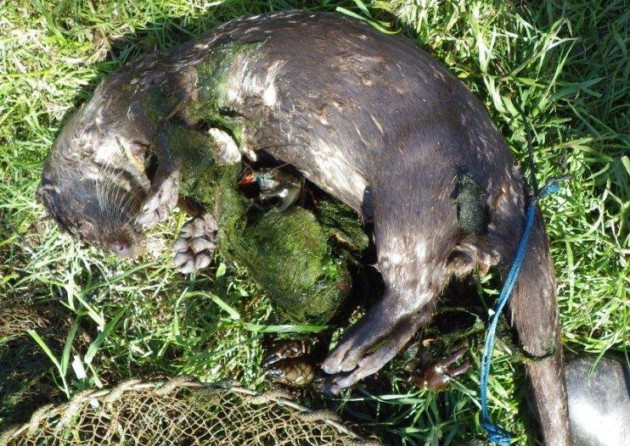 If they are not properly licensed, are being used to catch crayfish, and do not contain the proper otter guards to protect the animals, they are deemed illegal.
Figures in the angling community have described the find, thought to be in a Broadland river, as "disturbing" and "exceptional" and are calling for any suspicious activity to be reported.
The EA's fisheries technical specialist, Steve Lane, said: "It is pretty exceptional to find this number of illegal nets on the same stretch of river. Illegal netting and trapping can have significant impacts on fish and fishing through the unconsented removal of fish stocks and disruption of normal fish activity such as spawning.
"Illegal nets and traps can also result in the spread of fish diseases and non-native species such as signal crayfish. We were able to act on information received and our enquiries continue."
Otters are not uncommon on the Norfolk Broads and have seen an increase in numbers in recent years.
John Gregory, chairman of the Broads Angling Strategy Group, said the wildlife's presence on the waterways signifies health of the area.
"Otters are a creature that anglers generally are happy to live with," he added.
"They are part of the natural environment and it's good to see otters in the Broads as it shows we have a environment that can support a wide range of animals.
"It's disturbing to know there are people setting fyke nets in the rivers, but it's good to know the Environment Agency have found them."
Unauthorised netting and trapping is an offence with a maximum penalty of up to £50,000. Anyone with information about illegal fishing should call the EA on 0800 807060 or Norfolk police on 101.