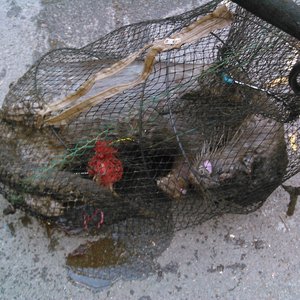 The dangers crayfish traps pose to otters were starkly illustrated when, very sadly, a dead otter was found in a trap washed downstream at Kings Lock, on the river Soar in Leicester.   
The otter was caught in a trap used for catching fish and crayfish and it drowned. The net containing the otter carcass was caught in overhanging branches. 
The irresponsible and illegal setting of crayfish traps is leading to an increased number of otter deaths. Anyone setting a crayfish trap must obtain a licence from the Environment Agency and permission from the owner of the land where they want to set the trap. 
The Environment Agency only consent traps if it is for education, fisheries management and conservation purposes and all traps must conform to their specifications.     
Otters are protected. Killing them is illegal and could lead to a £5,000 fine or imprisonment for up to six months. 
To reduce the likelihood of this happening again the Environment Agency and Leicester City Council riverside team and enforcement officers will patrol the area, bailiffs will check for illegal traps and take the necessary action.  
If you see any traps in or near the river, please call the Environment Agency incidence number on 0800 80 70 60.