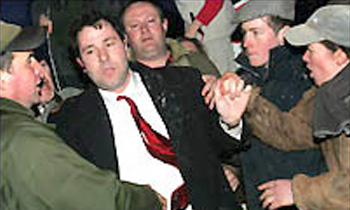 Wansdyke MP Dan Norris was pelted with eggs after being ambushed by pro-hunt protesters. He was leaving a constituent's home in East Harptree when a powerful searchlight was shone in his face and he was bombarded with eggs by around 25 people. Police were called but the attackers fled before they arrived.
Mr Norris said he would not be intimidated by the protesters and it was "business as usual" yesterday as he opened a new science block at Broadlands School in Keynsham.
It was the second time the Labour MP had been pelted with eggs. He was targeted last month while waiting to take part in a live televised debate in the South Gloucestershire village of Badminton – home of the Beaufort Hunt.
Mr Norris, aged 45, had been meeting constituents at a coffee evening at a house in East Harptree on Monday. He was attacked as he left at about 9.40pm.
He said: "I had just left the house when I heard the sound of a hunting horn. A bright light like a searchlight was shone in my face so I couldn't see anything and then I was hit by loads of eggs.
"I heard a woman's voice shout 'be scared'.
"Members of the public were leaving the house at the same time. We went back inside and the police were called but the crowd dispersed before the police arrived.
"People were shocked and angry, but I am not going to be scared by this. Anyone who knows me knows that it will make me even more determined to carry on doing my job to the best of my ability.
"These people should grow up and go and get a life."
Mr Norris said a hunt supporter had been at the coffee evening earlier and had asked questions.
He said: "I have seen him at two or three of these events. I hold regular meetings where constituents can raise any issues they like.
"I am always prepared to listen to what people have to say as long as they express themselves in an appropriate way.
"This kind of behaviour is never acceptable and will only lose support for the hunters."
Roger Martin, 58, who hosted the coffee evening, said: "Mr Norris was walking down the drive when we heard the sound of a hunting horn. A very bright spotlight was switched on and a group of between 20 and 30 people came charging down the drive hurling eggs and flour and shouting abuse.
"It was just a revenge attack for the hunting ban. It was quite scary really.You don't expect that sort of thing to happen."
The Countryside Alliance denied any knowledge of the incident.
Spokesman Tim Bonner said: "I can't comment on this specific incident but it shows, once again, the strength of feeling on this issue.
"People are extremely angry that they have been treated with utter contempt. They have been ignored and treated like muck and if you keep kicking people they are going to react."
Keynsham police are investigating and have appealed for witnesses.
Anyone with information can contact Keynsham police on 0845 456 7000.