This dramatic video captures the moment a group of campaigners were driven at by masked men on quad bikes as they attempted to disrupt a nearby hunt.
The saboteurs had gone to visit Badsworth and Bramham Moor Hunt on the last meet of the season in Womersley, North Yorkshire, according to a social media post by the campaigners.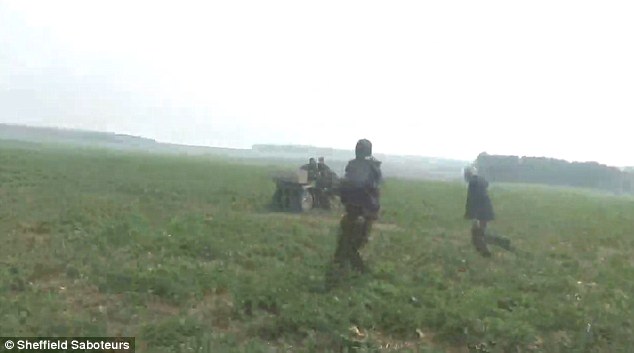 The group claimed they interrupted the hunt by calling the hounds off their scent, adding that at one point a supporter 'took a swing' at one of their heads with a walking stick.
But the campaigners said the day 'turned nasty' when they were ambushed by a masked quad bike rider as they crossed a field towards an area of woodland.
Shocking footage of the encounter shows the quad bike repeatedly driving towards the saboteurs as they run for cover. At one point, the driver appears to be threatening to shoot the campaigners. 
A quad bike was captured speeding towards three of the saboteurs as they crossed the field, forcing them to jump out of the way.
The cameraman is heard saying: 'Quad bike driving at us, completely unprovoked', as the driver turns the vehicle around and begins heading back towards the group.
At one point the passenger is seen reaching out at two of the saboteurs, as if to strike them.
Terrified, the campaigners start to sprint towards the woodland for cover.
As they pass the quad bike one of the men is heard saying: 'Get that gun off! Get that gun off. Quick. Get the gun.'
The quad bike makes one final drive-by and collides with the cameraman 'at full power', according to the commentary on the video.
As the saboteurs stumble into the woodland, the cameraman says: 'They just attempted to run us over and then they turned and hit us. They were hitting us as they drove past'.
But the encounter did not stop the campaigners from pursuing the Hunt for the rest of the day. 
The Facebook post adds: 'It didn't detract us from our work for too long and we managed to keep the hunt moving for the rest of the day.'