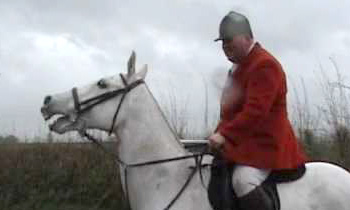 A Devon hunter has been found guilty of attacking a campaigner who was filming a hunting event.
Christopher Marles, 44, of Farringdon, near Exeter, repeatedly punched Kevin Hill, a hunt monitor with the International Fund for Animal Welfare.
He denied assault at a Devon and Somerset Staghounds hunt last October. Exeter Crown Court heard that Mr Hill, 56, from Beaminster, Dorset, suffered a bleeding face as well as a black eye during the attack.
Sixteen-stone Marles was bailed for sentencing to 23 October and the judge ordered that in the meantime he should not attend any hunting event.
Mr Hill was filming the hunt on Exmoor to ensure it was complying with the law against hunting with hounds which was introduced in February last year.
He told the court Marles, an amateur whipper-in with the east Devon hunt, tried to take his camera, so he crouched to protect it.
"He started punching me," said Mr Hill. "On one occasion I saw his foot lift up.
"I am not sure where he kneed me or kicked me, but it was a tremendous blow. "I was very frightened," he said.
After the case, Mr Hill, who said he had been attacked many times before, said: "We will not go away, we will not be driven away, we will always be there for the hunted animal.
"People have to be told what they do to us is not acceptable.
"There was a huge amount of arrogance in the hunting world, they believe they can do what they do to animals and try to chase us away."
Marles refused to comment after the case.
The Devon and Somerset Staghounds were unavailable for comment!