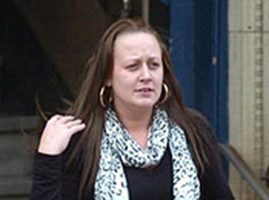 A jobless woman bred illegal fighting dogs in her Wolverhampton home and sold them for up to £300 each, a court heard.
The pitbull terrier dogs were found when police swooped on the house in a drugs raid.
Katie Hill has now been warned that she could face time behind bars for breeding litters in what was described by a district judge as being a "commercial operation". Twelve dogs have been kept in kennels ever since the raid at a cost of more than £38,000 and face being put down.
Hill, aged 24, of Filey Road, Bushbury, pleaded guilty to breeding a litter of 10 puppies from two adult dogs at Wolverhampton Magistrates Court yesterday.
Miss Pushpa Sheemar, prosecuting, said: "On January 9, a drugs warrant was executed at her home address and some drugs were found, along with the pitbull-type dogs which were seized.
"There was a large adult male, a heavily pregnant female and five puppies. The pregnant female later gave birth to a litter of 12 puppies but only five survived.
"In interview, the defendant admitted they were pitbull dogs and she had sold them for between £200 and £300 per dog from previous litters."
Hill, who is on jobseekers allowance and looking after her boyfriend's two children while he is in prison, was fined £500 for possession of cocaine, Miss Sheemar added.
After initially pleading not guilty to breeding from fighting dogs, she changed her plea to guilty yesterday before her trial started. She has been bailed pending sentencing on October 28.
District Judge Michael Wheeler warned Hill she was facing prison, saying: "This is a very serious offence and I am not prepared to rule out custody at this stage. This was for commercial gain – this was a commercial operation."
Mrs Hina Paw, defending, said Hill was not aware at the time the animals were fighting dogs.