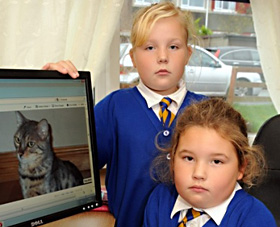 Officials from the RSPCA are investigating a second brutal dog attack on pet cats.
The latest disturbing incident happened last weekend when a horrified Egremont family saw their cat being mauled to death in the street.
The attack came just a few weeks after three cats were snatched from a sanctuary in Dearham, near Maryport, and torn apart by dogs, and dumped on a riverbank.
RPSCA investigators have warned that the two attacks may be the tip of a cruelty "iceberg" in Cumbria, with owners deliberately setting their dogs on cats.
The charity's Cumbrian inspector Chris Towler said that such crimes have become endemic in Cumbria, with the charity now regularly taking calls about what he called "the barbaric use of dogs".
In the latest incident, Nora Armstrong, and her granddaughter Olivia Stagg, were woken in the early hours of Sunday by the sound of a cat being attacked outside.
Through their window, they saw a cat being savaged by a pack of dogs which included a lurcher and terriers on The Willows, Orgill.
They later discovered the cat involved was the family's two-year-old Bengal cat Miko – a pet for Olivia, 10, and eight-year-old sister Abigail.
"We are absolutely devastated," said Nora.
Witnesses said a number of men were with the dogs as they attacked and police are now investigating.
"The children are incredibly upset and it is absolutely disgusting that something like this could happen," said Nora, who added that a number of cats have gone missing on the estate recently. She fears many may have suffered the same fate as their pet.
Meanwhile, inspectors are continuing their investigation into the raid on the sanctuary near Dearham on September 13. The three cats that were stolen were discovered hurled down a riverbank near to the Old Mill pub, along with the body of a fourth cat.