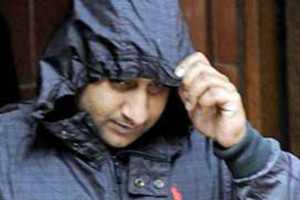 A MAN has been jailed for 12 weeks for cruelly treating three dogs he kept at his Birmingham home to compete in vicious fights.
Between them, the two pit bull terriers and a Staffordshire bull terrier Mohammed Nasir kept, had more than 240 untreated wounds.
Birmingham magistrates heard how the Staffordshire was used as a "sparring partner" to get the pit bulls up to fighting standard.
When police and RSPCA officials went to Nasir's house in St Benedicts Road, Small Heath, they found equipment used in organised fighting, including a treadmill, musclebuilding drugs and training programmes.
Nasir, 29, pleaded guilty to eight charges under the Animal Welfare Act, two under the Dangerous Dogs Act and a further charge of causing unnecessary suffering to a cockerel.
District Judge Jack McGarva told Nasir: "The suffering caused to these dogs is well beyond neglect and that's bad enough, but these were used to satisfy the sadistic element of your personality and to make money."
Nick Sutton, prosecuting, said the RSPCA went to Nasir's house in February after a tip off and found the three dogs kept in "filthy conditions" in special extra-strong wire kennels.
"There was urine and faeces everywhere and what bedding there had been had been chewed away," he said.
But the worst thing, he said, were the injuries which were between ten days and four months old. One pit bull had 71 untreated wounds, the other had 71, while the Staffordshire had 91.
All three dogs were eventually put down.
"These animals had plainly been involved in fighting on more than one occasion," he said.
"Organisers of dog fighting do not take their animals to vets for treatment because the vet will immediately recognise them as being involved in fighting."
Mr Sutton said they also found a treadmill with a wooden frame over it which the dog was attached to and forced to run to keep fit.
They also found a training programme for the pit bulls, with such details as 'threemile warm up, 20 minutes treadmill, two minutes walk'.
A bucket filled with muscle-building drugs was also found in the garden which Nasir had tried to claim were his.
"Dog fighting is highly organised and is exactly the same as a boxing match where dogs are trained to a suitable fighting weight and then matched to another dog of the same weight and this is achieved through a structured training programme," Mr Sutton said.
"In short, what we found was a complete training area for the pit bulls with the Staffordshire being used as a 'stooge dog', a sparring partner to give the pit bulls experience of fighting."
Khizar Hyatt, defending, said his client admitted owning the dogs but "vehemently denied" using them for fighting, claiming they sustained their injuries fighting amongst themselves.
"He didn't take them to the vet because he thought he might be accused of dog fighting," he said.
District Judge Mr McGarva said in sentencing last week: "I am imposing a prison sentence because a message has to be sent out to the public that this sort of behaviour will not be tolerated."
Nasir was also banned from keeping an animal for life, but not ordered to pay any of the £3,492 costs because of his financial circumstances.