A convicted dog fighter from South Wales has been jailed for six months following a major investigation by covert RSPCA inspectors.
David Brinley Braddon was given the maximum possible custodial sentence, along with a 15-year-ban on keeping animals, after it emerged he was identified in several illegal magazines that contained reports of dog fights.
The 47-year-old appeared at Caerphilly Magistrates Court yesterday (Thursday, 15 July) after being found guilty last month of keeping a dog for fighting and of causing unnecessary suffering to a dog by failing to seek veterinary care for its wounds.
He was also convicted of possessing equipment associated with training dogs to fight. Braddon admitted five counts of owning pit bull terrier type dogs at an earlier court hearing.
Braddon was cleared of keeping another four dogs for fighting and of causing unnecessary suffering to a second dog.
He was told he cannot appeal the ban on keeping animals for 10 years, and was ordered to pay £1,000 costs.
About the RSPCA investigation
Officers from the RSPCA special operations unit joined South Wales Police during a search of Braddon's home in Glyn Llwyfen, Llanbradach, near Caerphilly, in March last year. They discovered five pit bull terrier type dogs living in an elaborate kennel set-up at the rear of the property, as well as two treadmills with attachments for dog collars. Treadmills are commonly used by dog fighters to train their animals before a bout.
Inspectors also discovered weighing scales and a bottle of the penicillin Duplocillin, which is used to treat injured animals.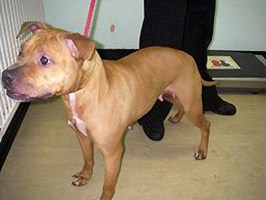 One of the dogs found at Braddon's home during the search was known as Otis. The animal fitted the name, description and photographs of a dog listed in many magazines and fight reports seized by the RSPCA during our ongoing investigations into organised dog fighting.
Chief Inspector Ian Briggs from our special operations unit said: "It is a major breakthrough to see David Braddon successfully convicted of dog fighting offences. The numerous references to him and Otis in the match reports would suggest he has connections deep within the organised dog fighting world. Organised dog fighting is a notoriously secretive activity, yet nearly 200 years since it was outlawed, there remains a hardcore minority of people who think this barbaric 'sport' is still an acceptable form of entertainment.
"The RSPCA is delighted the court has realised the seriousness of the offence and the cruelty involved through the sentence imposed. Our inspectors dedicate a huge amount of time and effort into tracking down those involved in dog fighting, which makes it satisfying to see David Braddon brought to justice."
Braddon immediately lodged an appeal against conviction and sentence at the end of yesterday's hearing.